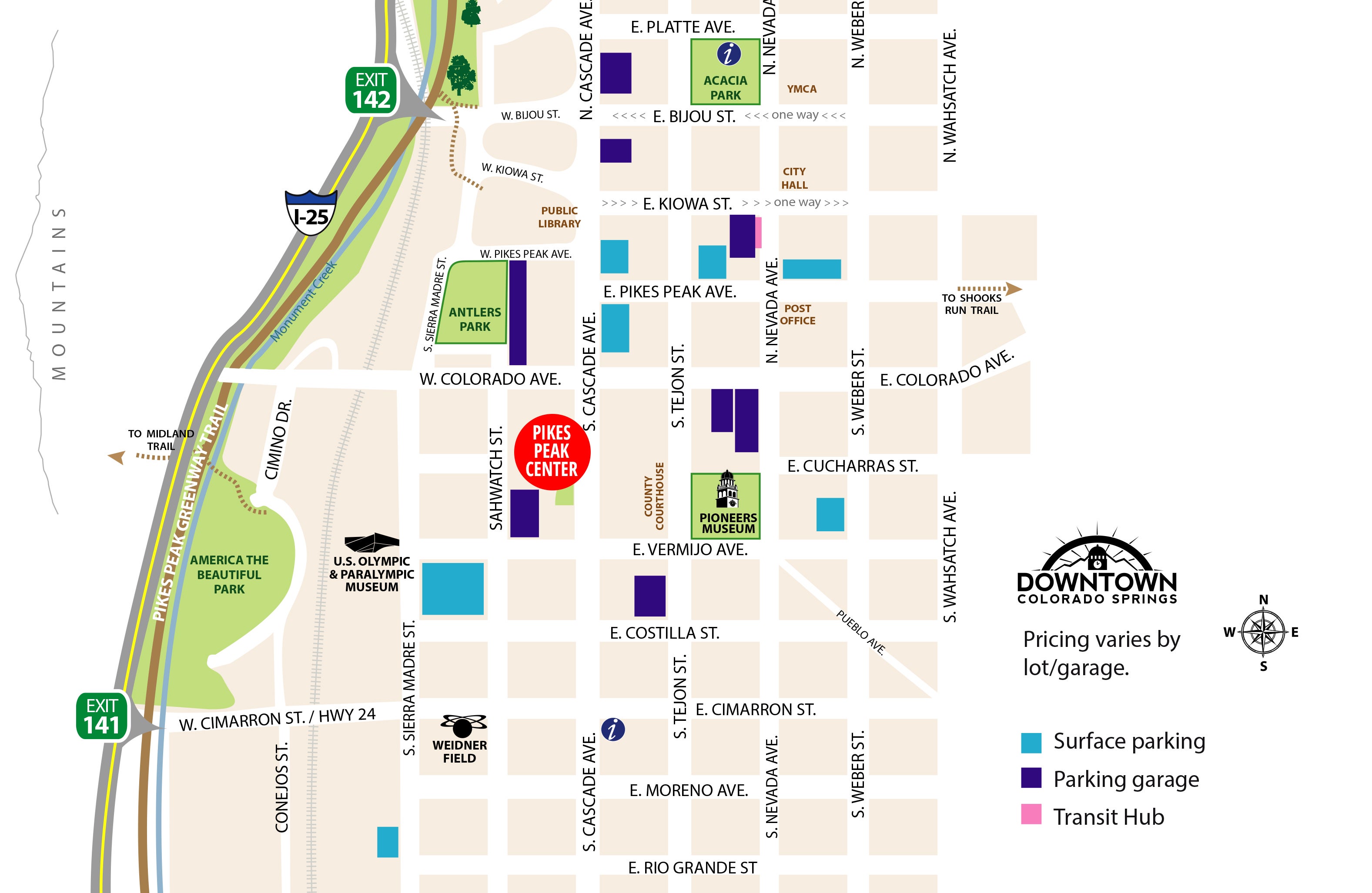 El Paso County Parking Structure at 255 S. Sahwatch. (Busiest)

Here are a few helpful tips for parking when using the Sahwatch parking facility:

1. Parking rate is $1.25 per hour up to a max of $11.25 per day

2. When ENTERING the garage, please take a ticket from the kiosk. This will raise the arm to enter.

3. The ticket will have a QR code that will be used to exit, please KEEP THIS TICKET…you will need this to exit.

4. When EXITING, please take the ticket you received upon entry and scan the QR code on the red glass at the exit kiosk.

5. The amount due will appear on the screen.

6. Enter a debit or credit card in the slot for payment (NO cash). Once the card has processed and payment accepted, the arm to exit will raise up.

To expedite the exit process, please have your entry parking ticket with the QR code and your payment card ready before you get to the exit booth.

Please note: There is a pay on foot kiosk on the 2nd floor east level which may be used as you leave the event to exit the garage. There is a 10 minute grace period to exit the garage once you have paid. Please keep the ticket from this kiosk and scan this ticket on the main exit on the ground level.

Sun Plaza Parking at 109 Colorado Ave

Alamo Corporate Center at 102 S. Tejon
Metered Parking
---
Prefer going the metered parking route? Download the free ParkMobile App for easy parking paymenty and monitering.
How does it work? To pay for parking with the app, a user enters the zone number posted on stickers and signs around the meter, selects the amount of time needed and touches the "Start Parking" button to begin the session. The user can also extend the time of the parking session on their mobile device, without having to go back to the meter. Learn more here.
Download On iPhone Download On Android
Directions
---
Pikes Peak Center
190 South Cascade Avenue
Colorado Springs, CO 80903
From 1-25 S

Take the BIJOU STREET exit, EXIT 142, toward DOWNTOWN. 0.2 mi
Turn LEFT onto W BIJOU ST. 0.1 mi
Turn SLIGHT RIGHT onto W KIOWA ST. 0.2 mi
Turn RIGHT onto N CASCADE AVE. 0.3 mi
From 1-25 N

From 1-25 N

Take the NEVADA AVE/I-25-BL N exit, EXIT 140, toward TEJON ST. 0.4 mi
Turn RIGHT onto S NEVADA AVE/I-25 BR N/US-85 N/US-87 N. 1.2 mi
Turn LEFT onto E COLORADO AVE/US-24 BL. 0.2 mi
Turn LEFT onto S CASCADE AVE.