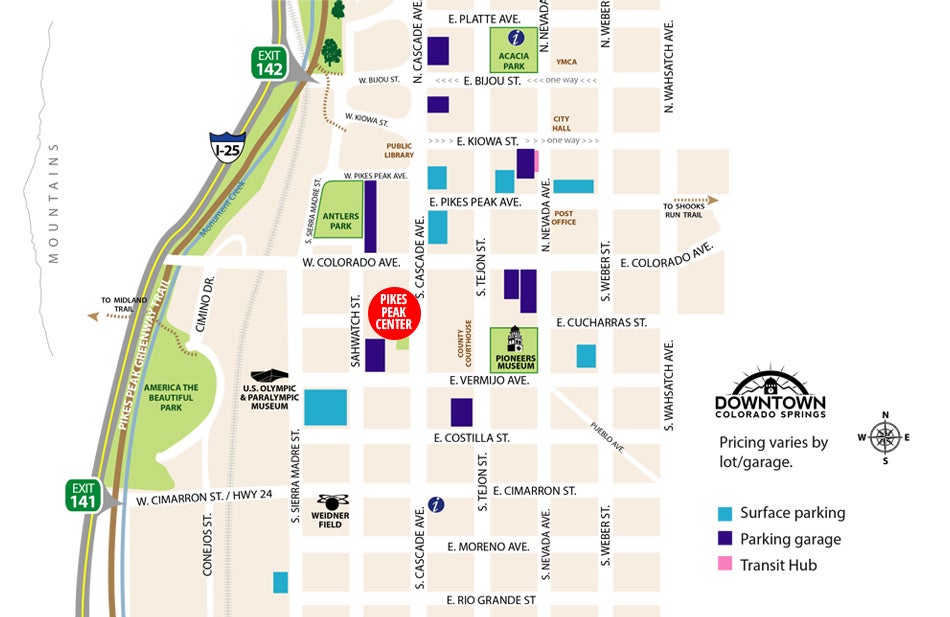 Directions
---
Pikes Peak Center
190 South Cascade Avenue
Colorado Springs, CO 80903
From 1-25 S

Take the BIJOU STREET exit, EXIT 142, toward DOWNTOWN. 0.2 mi
Turn LEFT onto W BIJOU ST. 0.1 mi
Turn SLIGHT RIGHT onto W KIOWA ST. 0.2 mi
Turn RIGHT onto N CASCADE AVE. 0.3 mi
From 1-25 N

From 1-25 N

Take the NEVADA AVE/I-25-BL N exit, EXIT 140, toward TEJON ST. 0.4 mi
Turn RIGHT onto S NEVADA AVE/I-25 BR N/US-85 N/US-87 N. 1.2 mi
Turn LEFT onto E COLORADO AVE/US-24 BL. 0.2 mi
Turn LEFT onto S CASCADE AVE.
Parking
The easiest method for parking at Pikes Peak Center is through the ParkMobile website or app. With ParkMobile, you can reserve a spot in the El Paso County Parking Structure on Sahwatch, the nearest parking option to the venue, or pay for metered parking, which is available on the streets surrounding the venue. Please find additional information on ParkMobile below.
Info on additional parking options can also be found below.
El Paso County Parking Structure at 255 S. Sahwatch.

The closest parking option to the venue - reserve in advance with ParkMobile (see below)

Sun Plaza Parking at 109 Colorado Ave

Alamo Corporate Center at 102 S. Tejon

---
We highly encourage guests to reserve parking in advance with ParkMobile to guarantee their event day parking spot and to expedite entry. Guests can view ParkMobile accepted parking lots, pricing and receive their parking pass in advance online using the ParkMobile website or the ParkMobile app.
Download the app at one of the buttons below:
Don't want to download the app? No problem! You can still reserve parking using the ParkMobile website.
How to reserve parking for your next event with ParkMobile:
Metered Parking
---
There is abundant metered parking surrounding Pikes Peak Center in downtown Colorado Springs.
Also available with ParkMobile. To pay for parking with ParkMobile, a user enters the zone number posted on stickers and signs around the meter, selects the amount of time needed and touches the "Start Parking" button to begin the session. The user can also extend the time of the parking session on their mobile device, without having to go back to the meter. Learn more here.