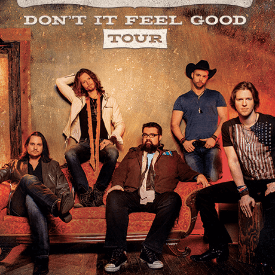 Jun 18, 2015
NEWS RELEASE: NBC's Champions of The Sing Off, Home Free, Will Play Pikes Peak Center, November 1
Tickets to the Country Music's A Capella Sensation Are On Sale Now!
View All News
Tickets to Home Free, are on sale now. All tickets may be purchased online at www.PikesPeakCenter.com, all TicketsWest locations by dialing 520-SHOW, or by visiting the Broadmoor World Arena or Pikes Peak Center Box Offices. We are proudly offering pre-event dinners in the elegant ANB room at the Pikes Peak Center. Call our concierge at 719-477-2102 to make reservations.
When country vocal band Home Free was crowned champion of NBC's The Sing-Off, their victory was by no means the beginnings of a career for the five country stars from Minnesota… rather it was a satisfying culmination of nearly a decade of hard work and commitment to a vocal craft growing in popularity.
Since their Sing-Off win, Home Free has released two albums (Crazy Life and Full Of Cheer), selling more than 150,000 copies; they've embarked on two major national tours, selling more than 100,000 tickets in North America; they've released more than 20 music videos, amassing more than 35-million YouTube views.
They continue to build a national audience as they bring their Don't It Feel Good Tour to town on the in support of their third major release on Columbia Records out in Fall 2015.