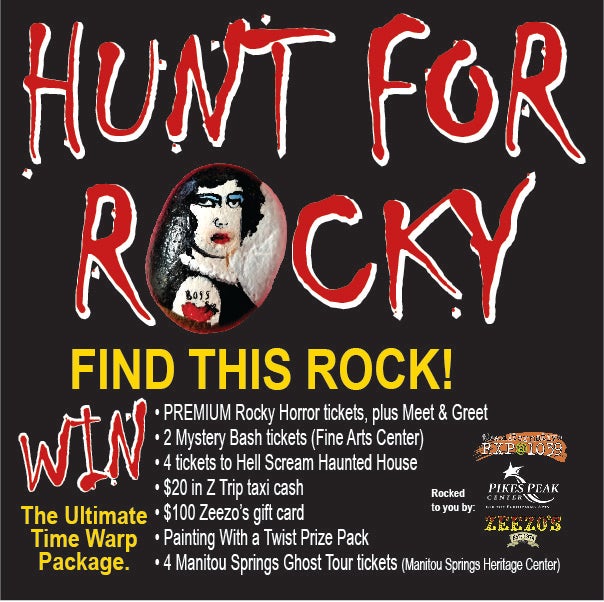 HUNT FOR ROCKY:
Listen to RXP 103.9 and check the Pikes Peak Center Facebook page at 2:00 PM daily for the next clue. The person who finds the rock will win our Grand Prize...The Ultimate Time Warp Prize Package to include 2 show tickets & Meet & Greet with Barry Boswick, 2 Pre-show Party Passes, gift cards, tickets to other October events, and more! Once the winning rock design is selected, all entries will be notified to get your rock hunt on!
Hunt begins on Tuesday, October 10, 2017 at 2:00 PM.
Rock is hidden in the Colorado Springs city limits.
Hunt For Rocky clues will be posted on the Pikes Peak Center Facebook page daily at 2:00 PM MST. https://www.facebook.com/pikespeakcentercs/
Finder of the Rock must post a photo holding the Rock at the location found on the Pikes Peak Center Facebook page to win!
Hunt For Rocky contest ends on Sunday, October 15, 2017 at 5:00 PM MST OR when Rock is found.
CONTEST CLUES:
CLUE #1 – HOW DO YOU DO? I SEE YOU'VE MET MY FAITHFUL HANDYMAN. THE ROCK IS HIDDEN SOMEWHERE OLDER THAN WHEN ROCKY BEGAN.

CLUE #2 - YOU'D BETTER WISE UP, JANET WEISS. IF YOU DON'T FEED THE METER HERE, YOU'D BETTER THINK TWICE.

CLUE #3 – OH IT'S NICER THAN BETTY MONROE HAD! WITH A VIEW OF THE PARK YOU'LL BE SO GLAD, THAT YOU'LL SHOP ON THIS STRIP AND FIND YOUR BIG, RED LIP.
BUY YOUR TICKETS NOW!
Rocky Horror Picture Show - Pikes Peak Center - Tue. Oct. 24th - 7:00 PM
Time Warp Pre-Show Party at 5:30 PM (must have party pass and show ticket to attend)
CLICK HERE to buy your show tickets!
Giveaways & Contests
Congratulations!
Ronda Russell won the Rock Your Rocky Contest with this beauty!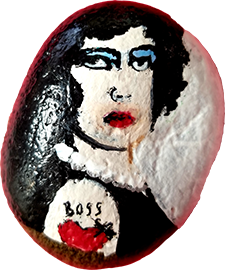 FIND THIS ROCK AND WIN THE ULTIMATE TIME WARP PRIZE PACKAGE!
Make sure that you LIKE our Facebook page and FOLLOW us on Twitter to participate in our social media contests and win tickets!
Sign up for our weekly e-newsletter, Backstage Pass, to get the latest giveaways, presale info, and performance announcements!